Gender in movement
"Gender in movement" is a programme of activities initiated by the Institut du Genre in order to make visible, disseminate and mediate the results of research on gender and sexuality. The aim of these activities is to enrich research by organising collaborations with artists and collectives whose work questions these themes. The sessions are open to all."
2022 — 2023
S'extraire de la binarité
Afin de diffuser et de rendre plus accessibles les recherches françaises sur le genre et les sexualités, l'Institut du Genre a travaillé avec Binge Audio pour concevoir le podcast "Faire Genre". Une fois par mois, la journaliste Laurène Daycard convie un·e chercheur·se spécialiséᐧe sur les questions de genre (philosophes, sociologues, anthropologues, littéraires et politistes…) pour interroger et expliciter une notion.
1 – BINARITÉ. Dans ce premier épisode, Laurène Daycard reçoit le sociologue Emmanuel Beaubatie, chargé de recherche au CNRS et lauréat du Prix de thèse de 2018 l'Institut du Genre, pour explorer la notion de binarité à l'aune des parcours des personnes trans'. Le féminin et le masculin sont-ils des territoires distincts séparés par une frontière ? Si l'on considère le genre comme un rapport social de pouvoir tout aussi puissant que la classe, le parcours des personnes trans', d'une classe de dominées à une classe de dominants, ou inversement, ne pourrait-il pas être analysé en termes de transfuge de sexe ?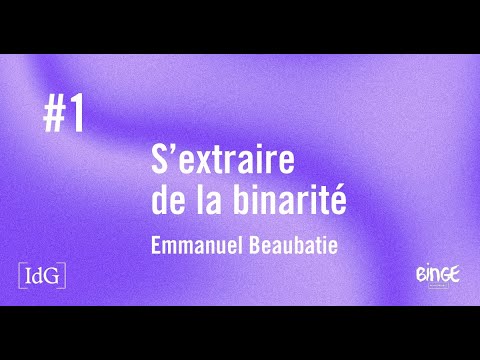 Le plaisir peut-il ne pas être prédateur ?
20 September 2022
10h-11h
Pour la quatrième séance du "Genre en mouvement", Estelle Ferrarese (directrice de l'Institut du Genre, professeure de philosophie morale et politique à l'Université Picardie Jules Verne) était invitée dans l'émission Avec Philosophie, sur France Culture, pour parler d'éco-féminisme avec Jeanne Burgart Goutal (professeure de philosophie au lycée à Marseille).
"Comment le plaisir se manifeste-t-il dans le capitalisme ? Peut-on penser le plaisir hors des dualismes induits par rationalité moderne ? Suffit-il alors de se "soucier des autres" pour repenser le plaisir en dehors d'un cadre de domination ? La nouvelle frugalité à mettre en œuvre, à laquelle la "fin de l'abondance" semble faire référence, implique de regarder avec méfiance et critique certains de nos plaisirs : nous déplacer loin pour faire de beaux voyages (quand nous avons les moyens) ; ou encore manger des fruits et légumes venant de très loin, mais aussi de la viande, car l'élevage de bovin ponctionne énormément les ressources naturelles de la planète. La question du plaisir est donc centrale. Certains courants écologiques nous disent aussi que nos plaisirs les plus prédateurs à l'égard de l'environnement sont surtout masculins, ainsi le goût pour la viande et les barbecues, que les femmes partageraient beaucoup moins. Il y a même un courant, l'écoféminisime, qui n'est pas récent mais retrouve un nouveau souffle, pour lequel il faut penser la domination de la nature et la domination du féminin comme ayant la même racine masculiniste."
2021 — 2022
La Grève des jus
Location
Théâtre La Reine Blanche, 2 bis passage Ruelle, 75018 Paris
The third session of "Gender in movement" will take place on 18 March 2022 at the Théâtre de la Reine Blanche, on the occasion of the presentation of La Grève des Jus, a creation born from the meeting between Romain Nicolas and Estelle Ferrarese. This project was supported by the CNRS, the CASDEN, and the Institut du Genre, as part of the eleventh edition of "Binôme", developed by the company Les sens des mots.
---
"In Binôme, the researcher becomes the object of study for a playwright who writes a play freely inspired by their encounter. The result is sensitive, often funny and offers an unusual look at science and those who make it. After a unique meeting with a scientist, the author writes a 30-minute play for three voices. This is then read by a group of actors and directors, accompanied by an original musical creation."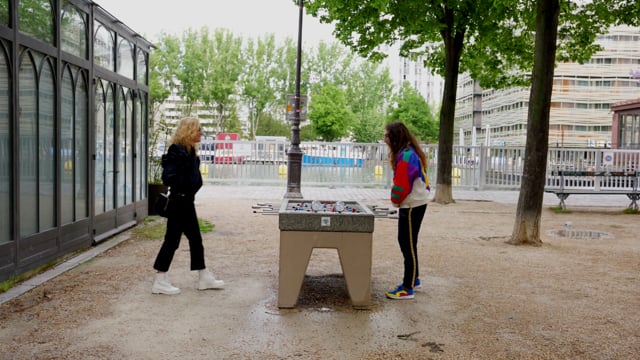 Vous ne désirez que moi
Location
Cinéma L'Arlequin, 76 rue de Rennes, 75006 Paris
The second session of "Gender in movement" will take place on 22 February at 6 pm at the Cinéma L'Arlequin, at the suggestion of Dulac Distribution. Estelle Ferrarese will present the gender issues of Vous ne désirez que moi, directed by Claire Simon.
---
Synopsis: "A man wants to talk. He asks a journalist friend to interview him to get a clearer picture. For two years he has been living a total, carnal, literary passion with a great writer much older than him. He wants to put into words what enchants and tortures him. He will describe their love, his story, and the injunctions to which he is finally subjected evoke those that women have endured for millennia. From Je voudrais parler de Duras, interviews by Yann Andréa with Michèle Manceaux, published by Pauvert/Fayard.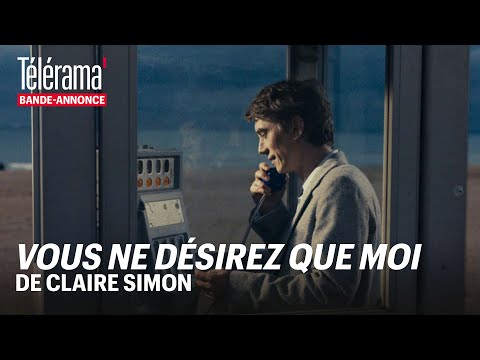 FRANGINES
Location
Cultural and associative center, Campus Condorcet (15, cours des Humanités 93322 Aubervilliers cedex)
The first session of the "Gender in movement" workshops will take place on 8 February at 5.30 pm at the Cultural and associative space in Campus Condorcet, during a co-creation workshop organised by La Compagnie Sur le Pont.
---
"FRANGINES is a performance in the form of a choreographic and sound ritual with four women dancers in the public space. FRANGINES is a shared experience of the ability to fight joyfully and collectively for what we value, a manifesto of the relationship to the other and to the collective, a conquest towards a power to act."